A couple weeks into this month, winter excited us by warming up into the thirties and forties, melting the snow, streaming water into the roads, revealing pockets of smudged grass, and persuading all the people to go coatless. And then things turned perverse. Out of seemingly nowhere, a Polar Vortex collapsed onto the state freezing all that water, suspending everything. The roads turned into 2 inch deep ice slides and life expectancy fell to about ten minutes. Nothing has changed!
And now I'm done. Let's talk about Books:
Remember my seventy books in a year challenge? It's going okay. I partially blame the return of TV Shows.
I read Wild by Cheryl Strayed, because it's being made into a movie with Reese Witherspoon. It was between good and great. I liked it. Loved the scenery and Strayed unmatchable gift as a storyteller, but sometimes I was just so sick of being on the PCT (Pacific Crest Trail). My head kept spinning over where she was and who she was meeting, it was hard to keep up with her.
I read And the Mountains Echoed, by Khaled Hosseini, which is perhaps his greatest work yet. Couldn't recommend it enough.
I read Ocean of the End of the Lane (at the beginning of January) and finished it in one sitting. I love Neil Gaiman and I loved this book. His imagination and style make me want to write fiction.
I also went on an Anne Lamott kick and read Traveling Mercies and Plan B, and reread Bird By Bird. When people ask about my faith lately, I'm telling them I am an Anne Lamott Christian. She somehow manages to not eliminate the complexity of faith, but instead make it beautiful, and funny. She's like my new Brennan Manning.
I'm also in the middle of a bunch of books that I am determined to finish. Some of them I am almost done with and others I have been more sluggish on.
I Know Why the Caged Bird Sings, Maya Angelou
The Liars Club, Mary Karr
Gifts of Imperfection, Brene Brown
Bible, Gender and Sexuality, Jim Brownson
The Things They Carried, Tim O'Brien
Catcher in the Rye, J.D. Salinger
On the Road, Jack Kerouac
Their Eyes Were Watching God, Zora Neale Hurston
TV
Parenthood– It's the only show on TV that moves the human heart. It breaks mine, mends mine, and stabs it with a pair of scissors, sits with it for awhile, it's an emotional roller coaster. And it is so good. As a writer, I think the script is exquisite. It's not easy to make normal conversation, normal events, this rich and intense and funny and meaningful.
I mean…

See?
Scandal– I have loved it since it's inception, except the most recent episode, which I admit I had high expectations for. I have Pope fatigue. She's great and all, but, eh, when the plot is moving slow, and sometimes shallowly, her Pope intensity falls a little flat. I don't know. Still sorting out my feelings.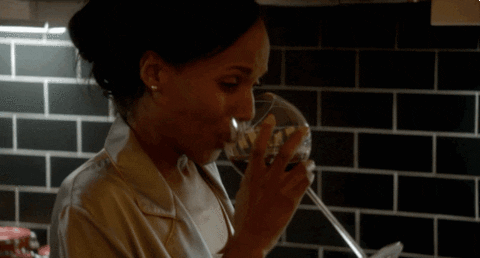 The Walking Dead– I have heard plenty of criticisms about how wrong the second half of this season has started, with all its' diverging storylines, and I could not disagree with them more. I've loved this season so far and think the different narratives are an exciting change.
[BIG SPOILERS/CLOSE YOUR EYES]
[Warned you]
Baby Judith LIVES!
Which might be for nothing since Girl on the Left wants to kill her.
A year ago, after my free one-month trial with Netflix was up, I cancelled my subscription. Turns out, you get a free month every year! So I signed up again to continue the House of Cards saga (an easy favorite, a fantastic second season)
and, since I have a couple more weeks left, I have started watching Orange is the New Black. Which makes me laugh a lot. Sometimes cringe. Overall, it's a good show.
Posts
My most read post this month was A Closet Comes Undone, where I talk about life on the other side of secrets. It has been an exhilarating and exhausting month because of everyone knowing, but as we move into March, I am feeling weathered and strong because of it.
And that's it! Linking up with Leigh Kramer today- Go check out some of the other posts!